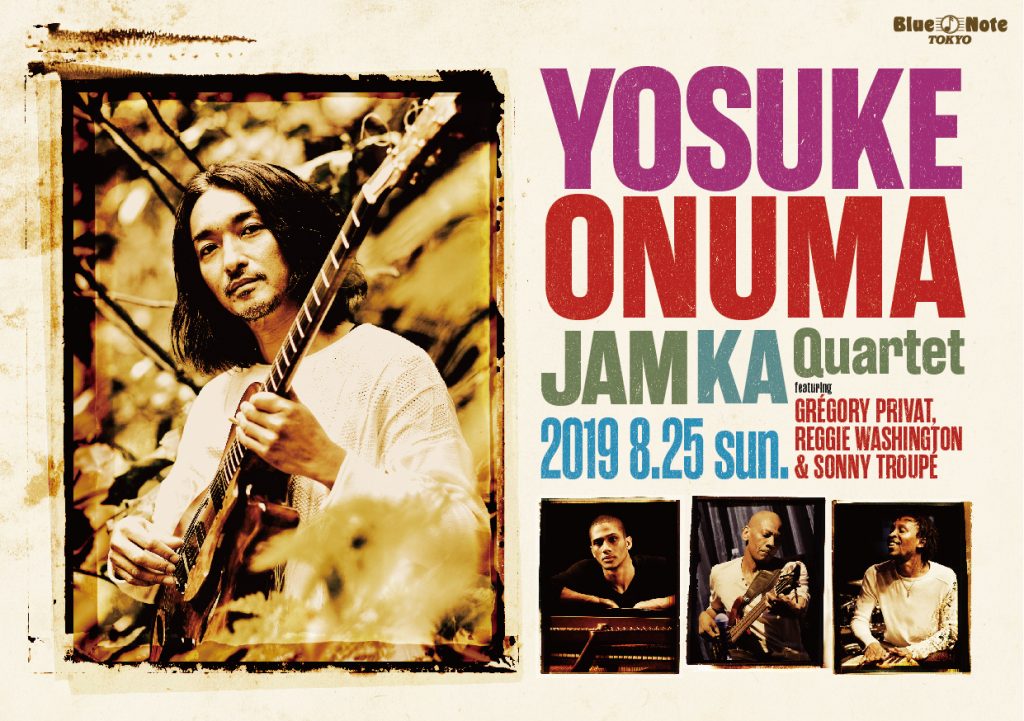 Yosuke Onuma (electric guitar)
Grégory Privat (piano, key)
Reggie Washington (electric bass, acoustic bass)
Sonny Troupé (drums, ka)
---
13th August 2019
Lady Blue / Tokyo
Yosuke Onuma solo guitar pre-event for Jam Ka Tour FREE CHARGE
---
18th August 2019
Kanemo Tea Culture Hall / Shizuoka
Yosuke Onuma & Grégory Privat duet
Open 18:00 Start 19:00, Adv ¥4,500, Door ¥5,000
Inquiry of ticket availability: rosegarden0518@me.com
Phone 080-4450-8150 Attn: Sakai.
M&ARTS 090-2774-3782
Address : Kakegawa 70 Kakegawa-shi, Shizuoka 436-0079
https://www.rakudosha.com/schedule.htm/
Gate Way Studio Shibuya-Dogenzaka / Tokyo
Sonny Troupé Gwo-Ka master class
*hosted by NPO ICHIGO-JAM
Open 18:30 Master class 19:00 – 21:00
Lesson fee : ¥3,000, rental djembe: ¥500
inquiry & apply : email address      info@ichigojam.org
https://www.facebook.com/events/500359770710151/
---
19th August 2019
cafe 104.5 / Tokyo
Yosuke Onuma & Grégory Privat duet showcase FREE CHARGE
---
20th August 2019
Pastel Hall / Kita-Kyushu
Yosuke Onuma "Jam Ka Trio"
feat. Grégory Privat & Sonny Troupé
Open 18:30 Start 19:00, Adv ¥6,000, Door ¥7,000
Inquiry : JAZZ STREET 52 phone: 093-522-0055
Address : Senbacho 1-1, Kita-ku, Kokura, Kitakyushu-shi, Fukuoka
---
21st August 2019
Catwalk / Akita
Yosuke Onuma "Jam Ka Quartet"
feat. Grégory Privat, Sonny Troupé & Reggie Washington
1st show : Open 18:00 Start 19:00, Adv ¥6,500, Door ¥7,000
2nd show : Open 21:00 Start 21:30, Adv ¥6,500, Door ¥7,000
* Ticket valid one show
Phone : 018-865-6699
Address : High-Create NK Build. Omachi 3-4-11, Akita-shi, Akita 010-0921
---
22nd August 2019
Nagoya Blue Note
Yosuke Onuma "Jam Ka Quartet"
1st show : Open 17:30 Start 19:00, ¥6,500, Member discount : ¥6,200
2nd show : Open 20:30 Start 21:15, ¥6,500, Member discount : ¥6,200
* Ticket valid one show
Phone : 052-961-6311
Address : Daitec Sakae Build. B2, Nishiki 3-22-20 Naka-ku, Nagoya-shi, Aichi
http://www.nagoya-bluenote.com
---
23rd August 2019
Mister Kelly's / Osaka
Yosuke Onuma "Jam Ka Quartet"
1st show : Open 17:30 Start 19:00, Adv ¥6,000, Door ¥6,500
2nd show : Open 20:30 Start 21:15, Adv ¥6,000, Door ¥6,500
* Ticket valid one show
Phone : 06-6342-5821
Address : Sonezaki-shinchi 2-4-1, Kita-ku, Osaka-shi, Osaka 530-0002
http://www.misterkellys.co.jp
---
24th August 2019
Inryoji temple / Okayama
Yosuke Onuma "Jam Ka Quartet"
Open 17:00 Start 18:00, Adv ¥7,000, Door ¥7,500
Inquiry : Sawubona Music      sawubona.music@gmail.com
Address : Inryoji Chuo-cho Okayama-shi, Okayama 700-0836
---
25th August 2019
Blue Note Tokyo
Yosuke Onuma "Jam Ka Quartet"
1st show : Open 16:00 Start 17:00, ¥6,800
2nd show : Open 19:00 Start 20:00, ¥6,800
* Ticket valid one show
Phone : 03-5485-0088 (mon.-fri. 11:00am-9:00pm, sat.,sun.&holiday 11:00am-8:00pm)
Address : Minami-Aoyama 6-3-16 Minato-ku, Tokyo 107-0062
http://www.bluenote.co.jp/jp/artists/yosuke-onuma/
---
---
Jam Ka Series

"Jam Ka" is Yosuke Onuma's lifework project. Three albums have been released so far.
"Jam Ka" 2010
recorded in New York
Yosuke has been fascinated in creole jazz since 2007 after listening his long time friend Jacques Schwarz-bart's 2 Gwo-Ka jazz albums. The music matched perfectly what he was looking for. As a surfer, Yosuke had wanted to create his own music that unites jazz with nature feeling. In this album, Jacques produced smartly and played saxophone brilliantly. Reggie Washington added a modern groove. Olivier Juste and Young Arnaud Dolmen focused on playing Ka.
"Jam Ka Deux" 2016
recorded in Paris
Though this one is an intensive guitar album, it has a romanticism on some ballads by playing of Grégory Privat. Reggie, Olivier and Arnaud are here. Arnaud played drums mainly on this album. The guests players added some textures : Simone Schwarz-bart wrote a merancholic lyric about nature and read it dramatically. Hervé Samb and Sonny Troupé played a blues so fun. Jacques concentrated on producing.
"Jam Ka 2.5 The Tokyo Session" 2019
recorded in Tokyo
The title means literally about the state of the project. Jam Ka band is on the way to the next step. This is a live documentary recording with a video shooting at a studio in Tokyo to capture the moment. Including tunes from "Jam Ka" and "Jam Ka Deux." A beautiful medley of "Beyond The Sea" to "Le Bonheur" Grégory's composition. "Gradation Part 4" is an exciting improvised session of Yosuke with Olivier and Arnaud. 
---
Yosuke Onuma in Guadeloupe 2017
Talking about "Jam Ka" in his words
Yosuke Onuma "Jam Ka Quartet" at Martinique Jazz Festival 2018
"Moai's Tihai" from the new album "Jam Ka 2.5"
The live documentary recording album
---
8/13/2019 東京大手町 レディブルー 小沼ようすけソロギター
8/18/2019
静岡 かねもティーカルチャーホール 小沼ようすけデュオ with グレゴリープリヴァ
東京 ゲートウェイスタジオ渋谷道玄坂 ソニートルーペ ワークショップ 協力運営 : NPO法人一期JAM
8/19/2019 東京神田 カフェ104.5 小沼ようすけデュオ with グレゴリープリヴァ (入場無料)
8/20/2019 北九州 パステルホール 小沼ようすけアコースティックJam Ka with  グレゴリープリヴァ、ソニートルーペ
8/21/2019 秋田 キャットウォーク 小沼ようすけJam Kaカルテット with グレゴリープリヴァ、ソニートルーペ、レジーワシントン
8/22/2019 名古屋 ブルーノート 小沼ようすけJam Kaカルテット
8/23/2019 大阪 ミスターケリーズ 小沼ようすけJam Kaカルテット
8/24/2019 岡山 蔭凉寺 小沼ようすけJam Kaカルテット
8/25/2019 東京 ブルーノート 小沼ようすけJam Kaカルテット
詳細 : yosukeonuma.com